Another linky party! Amanda over at
Teaching Maddeness
had a linky party about music you use in the classroom at the end of June but I just found it the other day. So, I'm linking up now!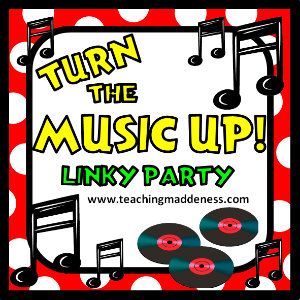 I love using music in the classroom, whether it's an actual song I turn on the c.d. player or just a little transition jingle that I make up on the spot. One of my favorite clean up songs is called "Oh My Goodness Look at This Mess" by Sweet Honey on the Rock. If you have never heard of them, check it out by clicking on the picture below. It is such fun song and a nice change to the classic, "Clean up, clean up, everybody, everywhere...."
Another great song on that same album is called "Still the Same Me." It's all about how we all have our ups and downs but we it's what's on the inside that counts. This one is a great song to use at the beginning of the year. Click below to preview it. Same picture as above, but this one is the entire album. You can preview all of the songs. Part or all of these lyrics would be ideal to type up and print out for your students to read over and over in their
song books
. Click on the link to see my previous post about song books and for a
freebie
.
I also love the Dr. Jean c.d's for fun brain breaks and to end our day. My students love "Gumball" from the Sing to Learn c.d. It's a silly song about putting a penny in the gum slot of a gum ball machine. Each verse has students trade a new sound for the beginning sounds of the words. Unfortunately, there isn't a song preview for this one but you can click on the picture to read more about the c.d. and purchase from Amazon.
We also like to end our day with Dr. Jean. As the kids are lining up to go in the hallway and get their things, I play "We had a good day" by Dr. Jean from the Kiss Your Brain c.d. It's a fun and calm way to end the day, and second graders love waving to each other (even when they're still just standing in line).
Again, you can't preview the individual c.d. but I guarantee that you won't be disappointed with any of it. I use numerous tracks on both these c.d.'s all the time.
I could go on and on...but I'll stop.
What are some of your favorite songs to use in the classroom? Don't forget to link up too. It's not too late. :)